The must-have bag of the season title, maybe even the year, is given to the satchel! This smart, sleek yet practical bag comes in many shapes and forms so you can no doubt find the perfect one for you somewhere…
Asos £25.00
This is a classic version of the style that will go perfectly with all your Autumn hues with that shabby chic look. Not to mention how, in comparison to other availible models, £25 is a great bargain!
House of Fraser Yumi Yumi £40.00
Another wonderful thing about satchels is how they seem to have been adapted for every season or occasion! This adorable feminine design is a perfect example of a casual Spring/Summer bag for day trips to the beach or a picnic in the sunshine.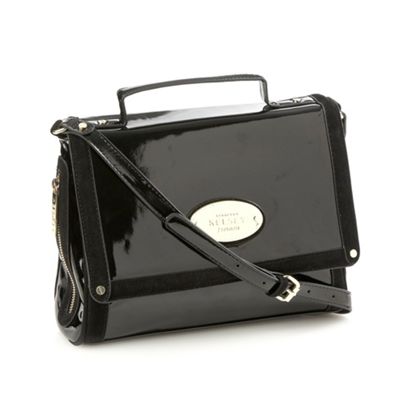 Debenhams £27.30 (in the sale)
This design takes on slightly different style as it loses the big buckle fastening and front pockets normally associated with satchels, however the rigid shape and long strap keep the essence of it. The bag's patent, sleek, and sophisticated appearance screams glamour, making capable of being smartened up or dressed down.
Cath Kidston £68.00
If you're not feeling confident enough to go for one of the bold, ridgid designs, Cath Kidston helpfully offers a softer, curvier bag in a dainty floral print. This saddle bag/satchel is also avaliable in cute spotty prints in a number of colours, not to mention how cheaper alternatives of many these designs can be found elsewhere, for example the LYDC London website.
Republic LYDC £28.00
The black polka dots on the cream background make this bag stand out yet still look adorably understated, making it perfect for any occasion. Worn with pastels in the summer, or monochrome in the colder months this satchel is definitely versatile, so a steal at £28!
The Cambridge Satchel Company £110.00
This is where the trend originated, the founder if you will… the Cambridge Satchel Company! Being unable to find a cheaper example of the statement neon satchel, I thought, why not feature the original. These gorgeous bags truly pack a punch, my only reservation would be which one? and unfortunately, the price.
Please feel free to comment your favourites, all opinions are welcome,
and don't forget to follow Snowdrops for all the latest fashion news and trends!
Simplistic beauty x